About Roger M. Kahn: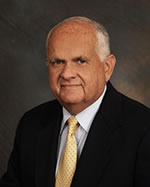 Judge Kahn is Of Counsel at the firm. On June 30, 2005, Judge Kahn retired from the bench after a 22-year career in which 62 of his written decisions have been published in the New Jersey Tax Reports. Additionally, he presided over the settlement of the Tropicana Casino tax appeal against Atlantic City for the tax year 1995 - 2005, a trial that last more than 100 days over a three year period. Judge Kahn also presided over the tax appeal litigation of 12 Class A office buildings in the City of Roseland for the same period of years.

Judge Kahn graduated from Lafayette College in 1961 and Rutgers Law School (Newark) in 1964. Thereafter he was in private practice for 19 years. In October of 1983, he was appointed by then New Jersey Governor Tom Kean to the Tax Court of New Jersey.


______________________________________________

Education: Rutgers University, L.L.B. (1964)
Lafayette College, B.A. (1961)

Admitted: New Jersey (1965)

Membership: Bergen County Bar Association
New Jersey State Bar Association (Section of Taxation)
American Bar Association (Section of Taxation)

Born: New York, New York

______________________________________________

Biography:

Judge, Tax Court of New Jersey, 1983-2005; Temporarily Assigned to Superior Court of New Jersey Chancery Division, Family Part, 1987-1994; Prosecutor, Borough of Englewood Cliffs, 1962; Special Counsel, Borough of Cliffside Park, 1969; Attorney: Planning Board, Township of Saddle Brook, 1970-1976; Zoning Board of Adjustment, Borough of Edgewater, 1974-1977; Special Counsel, 1974-1976 and Appointed General Counsel, 1975-1976; Hackensack Redevelopment Agency, 1973-1975. Public Defender, Borough of Little Ferry, 1977-1978; Deputy Counsel, County of Bergen, 1981-1983.